what is this?
this the the symbol that many hands were forming in the excitement of Kanye West at this year's Lollapalooza.
the symbol has been stolen.
i saw the dance duo Daft Punk perform at the LA Sports Arena in July of '07. this was the symbol that fans used to signify the large LED lighted pyramid, and it soon became a known Daft Punk insignia. like a...Dane Cook super finger, if you will.
just like everything else, Kanye stole the symbol. i mean do not get me wrong, i love Kanye and his music. he just seems to take the fame from less popular artists.
other examples are when Kanye had a fit on stage when less popular than Daft Punk-but still very popular-dance duo Justice beat him at a music awards show. (pictured below - So Me [video director] accepting the award, and also Kanye's criticism)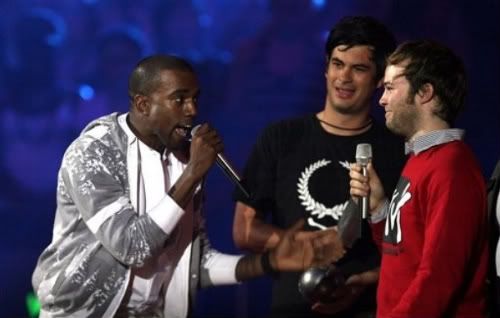 the funny part is, earlier this year, Kanye used the same director as Justice for his "Good Life" video.
not to mention, of course, is how Kanye used a segment of Daft Punk's hit single "Harder, Better, Faster, Stronger" in his hit single "Stronger", and gave them little credit for it.
Kanye, you may be original, but use your own originality.
a side note, i regret to inform you that Busy P (a.k.a. Pedro Winter [owner of Ed Banger Records]) is no longer managing Daft Punk. he says that he needs to focus on his record label, which i do respect. it is just sad news for me.
that is all.